RN - Interventional Radiology
Kansas City, Kansas
Job ID: R-20167
Overview
Our nurses are leaders and decision makers, working closely with physicians to provide the best care and most advanced treatments. On our team, you'll work in an environment of respect and professionalism, and you'll have the support to advance your nursing career in the direction you choose. Find out more about the wide variety of opportunities for nurses at The University of Kansas Health System.
Job Summary
Job ID: R-20167 Location: Kansas City, Kansas
Position Summary / Career Interest:
Under the supervision of the Imaging Operations Manager and the clinical direction of the radiologist, independently performs nursing duties; collects initial and on-going data about the health status of the patient; obtains and verifies all required information; initiates informed consent and communicates to other pertinent individuals; evaluates and documents patient response to intervention /therapy based upon expected outcomes; creates individualized plan of care for patients in the imaging center; carries out and assists physician with interventions (sedation, biopsies, etc.); prepares and administers medications; performs record keeping and documentation; and serves as the primary liaison between patients and radiologists and other members of the support team.
Responsibilities:
Collects and assesses initial and on-going data about the health status of the patient.
Initiates and/or revises an individualized plan of care that includes immediate and long-term outcomes for the patient/family and reflects the plan of the entire health care team.
Carries out interventions safely and in compliance with policy to facilitate achievement of expected outcomes.
Evaluates patient response to intervention/therapy based upon expected outcomes.
Provides patient education by explaining procedures, medications and giving instructions at a level the patient can understand; addresses patient's questions and concerns; verifies patient informed consent when indicated.
Documents and communicates all required components of patient care.
JOB REQUIREMENTS
Required:
A graduate of an accredited school of nursing.
Knowledge of general nursing theory and practice.
Knowledge of principles, methods and techniques involved in performing general nursing services and adapting or modifying standards of nursing practices for care of specific medical cases.
Current Registered Nurse (RN) licensure in the State of Kansas or has work permit from the State Board of Nursing.
BLS certification required or must complete BLS certification with in the first two weeks of employment.
ACLS certification required or must complete ACLS certification with in the first six months of employment.
Port-a-cath access training required or must complete training with in the first two weeks of employment.
Additional certification may be required for certain patient care settings or populations.
Specific information and the timeframe in which such certification must be attained will be provided by the department director/manager/supervisor at time of hire/transfer into department.
Preferred:
Bachelors degree from an accredited school of nursing.
Two or more years of nursing experience in imaging.
Port-a-Cath access experience.
HIPAA: This position will have access to the following Protected Health Information in order to carry out the duties related to their position at Hays Medical Center based on the following criteria:

Primary - required (routine) to do the job
Secondary - required for the job, but mostly be exception
None - no approved access

Description of Information Level
Primary:
Patient Demographic Information (information used to identify a person): Name, Date of Birth, Address, Race, Marital Status, Religion
Clinical Information (information that describes a patient's health status): Diagnosis, Reports/Medical Notes, Test Results, Problem List, Procedures, History and Physical
 Secondary:
Financial Information/Insurance (information related to insurance, billing and payment): Billing Information, Payer Name, Payer ID, Account Balances, Plan Elements Covered, Payment Information, Payment Rates

None:
Coding Information (clinical information that is in (alpha) numeric format): ICD-9 Codes, Rev Codes, CPT Codes

Infection Control:
Initial and Ongoing training in dealing with infection control. Training's could include but are not limited to, blood borne pathogens, bodily fluids and bio hazardous materials as it applies to your daily work environment.
We are an equal employment opportunity employer without regard to a person's race, color, religion, sex (including pregnancy, gender identity and sexual orientation), national origin, ancestry, age (40 or older), disability, veteran status or genetic information.
Quote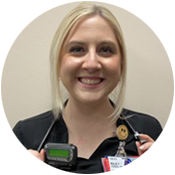 The main reason I love coming to work is because of the amazing team. We promote a nursing culture that encourages kindness and teamwork, and I absolutely love that about our hospital. – Riley Ferree, RN
Benefits
Healthcare

Our robust medical, dental and vision package allows you to choose options that are best for your family. We offer life, disability, and accident insurance plus voluntary offerings such as critical illness insurance and identity theft protection.

Giving back

In addition to the quality healthcare we provide, we have opportunities to serve externally in our community in activities throughout the year.

Team-based culture

At the health system, we are a team. If you are highly skilled and motivated but don't want to work in an "everyone for themselves" culture like many academic institutions have, this is your place.

Support and Resources

We have a comprehensive wellness program with resources to support your physical, mental, and emotional health. Our new Employee Assistance Program (EAP) includes free counseling sessions and legal advice options.

Tuition

Reimbursement

We offer tuition reimbursement for formal education credits.

401(a)

We offer a retirement savings plan with an employer contribute.
Success Profile
What makes a successful Nurse at The University of Kansas Health System? Review the traits we're looking for and see if you have the right combination.
Compassionate
Acccountable to Team
Takes Initiative
Possesses Integrity
Patient-Focused
Desire to Grow & Develop
Our Culture
Work with a team that supports you, in a place where you will feel you belong and will make a difference. We empower staff to put the patient first in all things – even beyond clinical care. We value people.
Driven to serve: Every employee makes an impact, regardless of your role – no matter if you're in scheduling, facilities or clinical staff. We know that each step of the process ultimately impacts the patient.
Our leadership is approachable, open-minded, and adaptable to challenges in healthcare.
We demonstrate values proudly and consistently. Values such as diversity and inclusion are important to our staff; there is a desire to see this reflected by the health system internally and externally.
Even though we are a large organization, our employees feel the health system's resources, culture and commitment to quality allow them to provide exceptional care for patients.
Our health system welcomes patients and cases that other hospitals cannot. This represents our commitment to care and our passion to challenge ourselves and be the best.
We are a true healthcare leader in the region, rooted in experience and excellence.
We offer unique opportunities for professional development, as well as convenient pathways for onsite continuing education among healthcare professionals and staff – from GED to CEUs.
We make a difference in our communities by improving the health and lives of our patients.
We also support our communities through Health System Employees Reaching Out events.
You don't have any recently viewed jobs yet. You don't have any saved jobs yet.
You don't have any recently viewed jobs yet. You don't have any saved jobs yet.
View All Jobs