Outpatient (Retail) Pharmacy Intern
Kansas City, Kansas
Job ID: R-25046
Overview
Our nurses are leaders and decision makers, working closely with physicians to provide the best care and most advanced treatments. On our team, you'll work in an environment of respect and professionalism, and you'll have the support to advance your nursing career in the direction you choose. Find out more about the wide variety of opportunities for nurses at The University of Kansas Health System.
Job Summary
Job ID: R-25046 Location: Kansas City, Kansas
Position Summary / Career Interest:
The pharmacy intern will provide collaborative pharmaceutical care through integrated drug distribution, consistent service, and interactions with interdisciplinary and multidisciplinary teams within the University of Kansas Health Care System.
Responsibilities:
Performs ALL duties under the drect supervision of a pharmacist licensed in the State of Kansas.    
Assists in accurate medication order filling, compounding and record keeping to assure timely delivery of medications.  Prepares medications using appropriate technique and equipment.  Medications include, but are not limited to:  Intravenous admixtures, chemotherapy, total parenteral nutrition, oral unit-dose or prepackaged medications, compounds, investigational drugs
Operates computer systems to accurately input medication orders and obtain necessary patient information. 
Uses a courteous and professional customer-focused approach while interacting directly or on the telephone with customers.  Directs customers with potential problems to the pharmacist, supervisor or administrator as appropriate.
Assists in maintaining pharmacy inventory and record keeping in accordance with state and federal law.  Assures timely distribution of prescribed medications and stock items to nursing units and other hospital departments.  
Strives to remove barriers in achieving excellent pharmaceutical care by participating in organizational and departmental performance improvement efforts and utilizing effective communication skills relative to these initiatives. 
Maintains supervisor awareness of personal and team activities affecting the department.  Reports medication errors at appropriate time of occurrence.  Maintains a plan for personal development and completion of competency validation records.  Participates in goal setting and ongoing development of team members.
Takes responsibility for professional development and advancement of learning in the study of pharmacy.
If applicable, participation in the quality management program is expected with the goal of improving services by monitoring processes, analyzing data, implementing interventions to improve and evaluating the effectiveness of those interventions.  Responsibilities may include working to establish and maintain long and short term goals for the Quality Management Program; monitoring and documenting Quality Improvement Projects (QIPs) for progress in meeting QI goals; and providing guidance and education to staff on Quality Management priorities and projects. If applicable, as part of the program, the staff will uphold the quality of the Patient Management Program to include the development and reassessment of the program.
*Must be able to perform the professional, clinical and or technical competencies of the assigned unit or department.
*Note: These statements are intended to describe the essential functions of the job and are not intended to be an exhaustive list of all responsibilities. Skills and duties may vary dependent upon your department or unit. Other duties may be assigned as required.
JOB REQUIREMENTS
Required:
High School Diploma or GED equivalent
Valid Kansas and/or Missouri licensure as a registered pharmacy intern
Kansas State Board of Pharmacy and/or Missouri State Board of Pharmacy *based on position location*
Basic typing and word processing ability
We are an equal employment opportunity employer without regard to a person's race, color, religion, sex (including pregnancy, gender identity and sexual orientation), national origin, ancestry, age (40 or older), disability, veteran status or genetic information.
COVID-19 and flu vaccines are required for all health system employees. Learn more.
Quote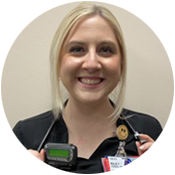 The main reason I love coming to work is because of the amazing team. We promote a nursing culture that encourages kindness and teamwork, and I absolutely love that about our hospital. – Riley Ferree, RN
Benefits
Healthcare

Our robust medical, dental and vision package allows you to choose options that are best for your family. We offer life, disability, and accident insurance plus voluntary offerings such as critical illness insurance and identity theft protection.

Giving back

In addition to the quality healthcare we provide, we have opportunities to serve externally in our community in activities throughout the year.

Team-based culture

At the health system, we are a team. If you are highly skilled and motivated but don't want to work in an "everyone for themselves" culture like many academic institutions have, this is your place.

Support and Resources

We have a comprehensive wellness program with resources to support your physical, mental, and emotional health. Our new Employee Assistance Program (EAP) includes free counseling sessions and legal advice options.

Tuition

Reimbursement

We offer tuition reimbursement for formal education credits.

401(a)

We offer a retirement savings plan with an employer contribute.
Success Profile
What makes a successful Nurse at The University of Kansas Health System? Review the traits we're looking for and see if you have the right combination.
Compassionate
Acccountable to Team
Takes Initiative
Possesses Integrity
Patient-Focused
Desire to Grow & Develop
Our Culture
Work with a team that supports you, in a place where you will feel you belong and will make a difference. We empower staff to put the patient first in all things – even beyond clinical care. We value people.
Driven to serve: Every employee makes an impact, regardless of your role – no matter if you're in scheduling, facilities or clinical staff. We know that each step of the process ultimately impacts the patient.
Our leadership is approachable, open-minded, and adaptable to challenges in healthcare.
We demonstrate values proudly and consistently. Values such as diversity and inclusion are important to our staff; there is a desire to see this reflected by the health system internally and externally.
Even though we are a large organization, our employees feel the health system's resources, culture and commitment to quality allow them to provide exceptional care for patients.
Our health system welcomes patients and cases that other hospitals cannot. This represents our commitment to care and our passion to challenge ourselves and be the best.
We are a true healthcare leader in the region, rooted in experience and excellence.
We offer unique opportunities for professional development, as well as convenient pathways for onsite continuing education among healthcare professionals and staff – from GED to CEUs.
We make a difference in our communities by improving the health and lives of our patients.
We also support our communities through Health System Employees Reaching Out events.
You don't have any recently viewed jobs yet. You don't have any saved jobs yet.
You don't have any recently viewed jobs yet. You don't have any saved jobs yet.
View All Jobs