Physician - Internal Medicine: Hospice/Palliative Care
Olathe, Kansas
Job ID: R-29951
Overview
Our nurses are leaders and decision makers, working closely with physicians to provide the best care and most advanced treatments. On our team, you'll work in an environment of respect and professionalism, and you'll have the support to advance your nursing career in the direction you choose. Find out more about the wide variety of opportunities for nurses at The University of Kansas Health System.
Job Summary
Job ID: R-29951 Job Type: Full time Location: Olathe, Kansas
Position Summary / Career Interest:
Physician - Internal Medicine: Hospice/Palliative Care
The University of Kansas Health System is seeking a board-eligible or board-certified Palliative Medicine faculty member to join its expanding team. This physician will support the departmental mission of delivering the highest quality of care, as well as satisfying teaching, research, and academic responsibilities at the region's quaternary referral center.
About the Position:
The ideal candidate will provide medical care for the palliative medicine consult service, general inpatient hospice service, as well as outpatient clinical settings. Additionally, on-call and weekend responsibilities are shared across the division. This person will also serve in a clinician-educator role and will have the responsibility of teaching internal medicine residents, fellows, and medical students. They will participate in regular educational and administrative conferences and contribute to various research, educational, and clinical initiatives.
Required Qualifications:
Board Certified or Board Eligible in Hospice and Palliative Medicine

Board Certified or Board Eligible in a specialty leading to Hospice and Palliative Medicine certification.
Benefits and Compensation:
Generous retirement contribution

Relocation assistance

Health, dental, vision

CME allowance

LTD/STD and life insurance

Professional liability coverage
About The University of Kansas Hospital:
Recognized as one of the top hospitals in the United States by U.S. News & World Report, The University of Kansas Hospital is a 1045-bed academic medical center and Level 1 trauma center. The Health System consistently earns national recognition for outstanding quality and safety in several medical specialties, with notable areas such as the Center for Advanced Heart Care, Center for Transplantation, Advanced Comprehensive Stroke Center, and NCI-designated Comprehensive Cancer Center. Magnet designation is proof of our hard-earned commitment to nursing excellence.
About Kansas City:
A metropolitan area of 2.3 million people, Kansas City offers the diversity and excitement of a large city with the charm and convenience of Midwest living. Walkable, tree-lined neighborhoods surround the campus, which is within close proximity to the city's top destinations, including the Kauffman Center of Performing Arts, Union Station & Science City, National WWI Museum, Nelson-Atkins Museum of Art, as well as the Country Club Plaza, a shopping district celebrated for its architectural design.
Overall, the Kansas City metropolitan area is a diverse and dynamic region with a rich cultural heritage, a strong economy, a vibrant downtown area, and a wide range of recreational and educational opportunities. It offers a high quality of life for its residents and attracts visitors from around the region and beyond. Residents enjoy safe, suburban neighborhoods, great restaurants and shopping, miles of bike paths, parks and lakes, excellent schools (public, private, and universities for higher education).
The University of Kansas Health System is the official healthcare provider for the Kansas City Chiefs, Kansas City Royals, and T-Mobile Center. Kansas City is also home to Sporting KC, KC Current, Kansas City Mavericks, and will be hosting the World Cup! Visit www.thinkkc.com for more information about Kansas City.
About Olathe:
For more than 60 years, Olathe Medical Center (OMC) has expanded its services to meet the growing needs of the community. Today, OMC is located on one of the largest hospital campuses in the Midwest, a 285-acre campus at 151st Street and I-35 in southern Johnson County, Kansas. OMC is licensed for 300 beds and averages more than 44,000 patient care days per year. Its emergency care center is one of the busiest in the region, with more than 44,000 patients treated annually.
For more information contact:
Ann Terry, Physician Recruiter
aterry2@kumc.edu
We are an equal employment opportunity employer without regard to a person's race, color, religion, sex (including pregnancy, gender identity and sexual orientation), national origin, ancestry, age (40 or older), disability, veteran status or genetic information.
Quote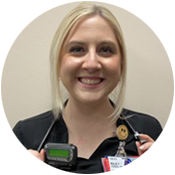 The main reason I love coming to work is because of the amazing team. We promote a nursing culture that encourages kindness and teamwork, and I absolutely love that about our hospital. – Riley Ferree, RN
Benefits
Healthcare

Our robust medical, dental and vision package allows you to choose options that are best for your family. We offer life, disability, and accident insurance plus voluntary offerings such as critical illness insurance and identity theft protection.

Giving back

In addition to the quality healthcare we provide, we have opportunities to serve externally in our community in activities throughout the year.

Team-based culture

At the health system, we are a team. If you are highly skilled and motivated but don't want to work in an "everyone for themselves" culture like many academic institutions have, this is your place.

Support and Resources

We have a comprehensive wellness program with resources to support your physical, mental, and emotional health. Our new Employee Assistance Program (EAP) includes free counseling sessions and legal advice options.

Tuition

Reimbursement

We offer tuition reimbursement for formal education credits.

401(a)

We offer a retirement savings plan with an employer contribute.
Success Profile
What makes a successful Nurse at The University of Kansas Health System? Review the traits we're looking for and see if you have the right combination.
Compassionate
Acccountable to Team
Takes Initiative
Possesses Integrity
Patient-Focused
Desire to Grow & Develop
Our Culture
Work with a team that supports you, in a place where you will feel you belong and will make a difference. We empower staff to put the patient first in all things – even beyond clinical care. We value people.
Driven to serve: Every employee makes an impact, regardless of your role – no matter if you're in scheduling, facilities or clinical staff. We know that each step of the process ultimately impacts the patient.
Our leadership is approachable, open-minded, and adaptable to challenges in healthcare.
We demonstrate values proudly and consistently. Values such as diversity and inclusion are important to our staff; there is a desire to see this reflected by the health system internally and externally.
Even though we are a large organization, our employees feel the health system's resources, culture and commitment to quality allow them to provide exceptional care for patients.
Our health system welcomes patients and cases that other hospitals cannot. This represents our commitment to care and our passion to challenge ourselves and be the best.
We are a true healthcare leader in the region, rooted in experience and excellence.
We offer unique opportunities for professional development, as well as convenient pathways for onsite continuing education among healthcare professionals and staff – from GED to CEUs.
We make a difference in our communities by improving the health and lives of our patients.
We also support our communities through Health System Employees Reaching Out events.
You don't have any recently viewed jobs yet. You don't have any saved jobs yet.
You don't have any recently viewed jobs yet. You don't have any saved jobs yet.
View All Jobs