Organ Transplant Nurse Coord - Kidney Transplant
Kansas City, Kansas
Job ID: R-26558
Overview
Our nurses are leaders and decision makers, working closely with physicians to provide the best care and most advanced treatments. On our team, you'll work in an environment of respect and professionalism, and you'll have the support to advance your nursing career in the direction you choose. Find out more about the wide variety of opportunities for nurses at The University of Kansas Health System.
Job Summary
Job ID: R-26558 Job Type: Full time Location: Kansas City, Kansas
Position Summary / Career Interest:
The Organ Transplant Nurse Coordinator plans, directs, and provides specialized nursing care with the primary emphasis on the treatment of individuals with end stage organ disease that are designated to have a solid organ transplant. Provides continuity and coordination of patient care; conducts patient and professional education initiatives; collaborative relationship with multidisciplinary teams, community resources and agencies.
Responsibilities:
Demonstrate knowledge and ability to facilitate living

donation/transplantation,

and will utilize that knowledge to coordinate the care of the living donor for evaluation and live organ donation. Identifies appropriate live donor candidate upon referral, and interacts

with appropriate staff.

Demonstrates knowledge and ability to coordinate the care of the transplant recipient in the outpatient setting to achieve optimal physical, social and emotional rehabilitation. Identifies and responds to

recipient/family/legal

guardian's educational, psychosocial and economic needs in post-transplant phase. Reinforces post-operative teaching. Collects and reviews data pertinent to recipient's health and organ function. Communicates lab data and diagnostic results to transplant physician/health care provider. Implements changes in drug/treatment therapy as ordered by physician(s) and/or health care provider. Arranges for consultations, diagnostic procedures and hospitalization when indicated. Reinforces and facilitates need for well care (i.e., periodic mammography, pap smears and colonoscopy). Ensures recipient is screened

annually for malignancy. Assesses recipient's need for immunizations.

Demonstrates knowledge and the ability to monitor and coordinate care of the

candidate awaiting organ transplantation. Develops and institutes a teaching plan addressing transplant

candidate/family/legal

guardian's learning needs.

Maintains/ensures communication with patient, referring physicians, payers, other health care providers and transplant team members. Ensures cytotoxic antibody screen is obtained regularly per transplant center protocol. Maintains routine health maintenance and surveillance for malignancy during the waiting period. Exhibits ability to maintain and update candidate-listing status per OPTN/UNOS regulations. Identifies the need for candidate re-evaluation and initiates when appropriate. Provides and

maintains comprehensive documentation of candidate progress.

Demonstrates proficiency and continual growth in the knowledge of transplantation.

Reviews and integrates into practice the current professional literature in the field of transplant. Attends practice-related conferences. Participates in professional

transplant/procurement

organizations. Examines current transplant-related research. Shares knowledge through mentoring/precepting newly hired staff. Demonstrates understanding and the ability to assume responsibility for individual judgments to achieve the highest quality of care for the transplant candidate, recipient, family and living donor.
Demonstrates understanding and ability to

facilitate/coordinate

evaluation and

OPTN/UNOS listing of potential transplant candidate. Identifies appropriate candidate upon referral, and interacts with appropriate staff. Identifies requirements for candidate evaluation. Coordinates with multidisciplinary team the evaluation process for potential

transplant candidate.

Demonstrates understanding of post-transplant management including medications, complications, interventions and discharge planning in the coordination of recipient care. Demonstrates the ability to collaborate effectively with multidisciplinary team. Monitors patient progress post-transplant. Identifies complications and considers interventions with the transplant team. Communicates recipient's status to referring

physician, health care providers and payers. Identifies and responds to the

educational, psychosocial and economic needs of

recipient/family/legal

guardian during hospitalization. Educates

recipient/family/legal

guardian regarding care and

responsibilities after transplantation.

Educates

candidate/family/legal

guardian about living donation options, evaluation process, OPTN regulations, organ allocation, waiting phase, transplant process, risks/benefits, including utilization of expanded donors, high-risk donors, if applicable, post-operative phase including immunosuppressive therapy and effects, potential research protocols of the transplant program,

candidate/family/legal

guardian

responsibility throughout the transplant process.

Exhibits knowledge and ability to facilitate transplant process when organ becomes

available to transplant candidate. This includes defining and adhering to the current OPTN/UNOS regulations and allocation policies. Communicates with the OPO and collects the appropriate data necessary for decision-making regarding organ acceptance/rejection for transplant. Shares necessary information about the donor organ, including ABO compatibility, with the transplant surgeon/physician. Reviews potential recipient's current medical status to determine eligibility for transplant. Assesses need for and obtains results of final cytotoxic cross match. Facilitates admission or transfer of patient to the transplant. Arranges any preoperative procedures required (i.e., dialysis). Notifies transplant team of pending surgical procedure. Acts as a liaison between the donor and recipient transplant teams. Exhibits ability to remove transplant recipient from list per OPTN/UNOS regulations. Provides outcome specifics to OPO for donor family follow-up. Maintains communication with

referring physician, health care providers and payers.

Identifies and responds to the psychosocial and economic needs of the transplant

candidate/family/legal

guardian during evaluation. Demonstrates knowledge of, and compliance with, OPTN/UNOS policies and listing requirements. Informs and educates patient/family/legal guardian at time of listing. Ensures patient and referring physician are informed in writing of transplant listing, denial or postponement. Provides and maintains comprehensive documentation of evaluation process and makes appropriate

referrals to specialists.

Interprets serological results of the potential transplant candidate and their implications

for transplant. Obtains recipient blood type, tissue typing and cytotoxic antibodies according to transplant center protocol. Identifies possible co-morbidities in the transplant candidate and evaluates as indicated. Identifies absolute and relative contraindications to transplantation. Ensures patient understands risk and benefit of immunizations required prior to transplantation.
*Must be able to perform the professional, clinical and or technical competencies of the assigned unit or department.
*Note: These statements are intended to describe the essential functions of the job and are not intended to be an exhaustive list of all responsibilities. Skills and duties may vary dependent upon your department or unit. Other duties may be assigned as required.
JOB REQUIREMENTS
Required:
Associate's Degree in Nursing
Must complete Bachelor's Degree in Nursing within five years of hire/transfer
Basic Life Support Certification or obtained within 14 days of hire.
Registered Nurse in State of Kansas
Minimum two years acute clinical experience

As a condition of your employment and continued employment with the health system, you are required to secure a Nurse Compact License (NCL) within 60 days of your date of hire.  This will enable you to perform your job duties not only in Kansas, but other compact states.   You will be responsible for any expenses you incur in securing this license, and must provide your manager with evidence of this license before the sixty-day period expires.  If you fail to secure the NCL as required, you will be immediately removed from the work schedule and placed on an unpaid administrative leave, until we can understand the reasons for your non-compliance.  Further failure to comply with the licensing requirement will result in your end of employment with the health system. 
Preferred:
Bachelor's Degree in Nursing
Bilingual Spanish/English
We are an equal employment opportunity employer without regard to a person's race, color, religion, sex (including pregnancy, gender identity and sexual orientation), national origin, ancestry, age (40 or older), disability, veteran status or genetic information.
COVID-19 and flu vaccines are required for all health system employees. Learn more.
Quote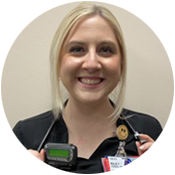 The main reason I love coming to work is because of the amazing team. We promote a nursing culture that encourages kindness and teamwork, and I absolutely love that about our hospital. – Riley Ferree, RN
Benefits
Healthcare

Our robust medical, dental and vision package allows you to choose options that are best for your family. We offer life, disability, and accident insurance plus voluntary offerings such as critical illness insurance and identity theft protection.

Giving back

In addition to the quality healthcare we provide, we have opportunities to serve externally in our community in activities throughout the year.

Team-based culture

At the health system, we are a team. If you are highly skilled and motivated but don't want to work in an "everyone for themselves" culture like many academic institutions have, this is your place.

Support and Resources

We have a comprehensive wellness program with resources to support your physical, mental, and emotional health. Our new Employee Assistance Program (EAP) includes free counseling sessions and legal advice options.

Tuition

Reimbursement

We offer tuition reimbursement for formal education credits.

401(a)

We offer a retirement savings plan with an employer contribute.
Success Profile
What makes a successful Nurse at The University of Kansas Health System? Review the traits we're looking for and see if you have the right combination.
Compassionate
Acccountable to Team
Takes Initiative
Possesses Integrity
Patient-Focused
Desire to Grow & Develop
Our Culture
Work with a team that supports you, in a place where you will feel you belong and will make a difference. We empower staff to put the patient first in all things – even beyond clinical care. We value people.
Driven to serve: Every employee makes an impact, regardless of your role – no matter if you're in scheduling, facilities or clinical staff. We know that each step of the process ultimately impacts the patient.
Our leadership is approachable, open-minded, and adaptable to challenges in healthcare.
We demonstrate values proudly and consistently. Values such as diversity and inclusion are important to our staff; there is a desire to see this reflected by the health system internally and externally.
Even though we are a large organization, our employees feel the health system's resources, culture and commitment to quality allow them to provide exceptional care for patients.
Our health system welcomes patients and cases that other hospitals cannot. This represents our commitment to care and our passion to challenge ourselves and be the best.
We are a true healthcare leader in the region, rooted in experience and excellence.
We offer unique opportunities for professional development, as well as convenient pathways for onsite continuing education among healthcare professionals and staff – from GED to CEUs.
We make a difference in our communities by improving the health and lives of our patients.
We also support our communities through Health System Employees Reaching Out events.
You don't have any recently viewed jobs yet. You don't have any saved jobs yet.
You don't have any recently viewed jobs yet. You don't have any saved jobs yet.
View All Jobs